"The Walking Dead" è un serial televisivo americano creato – ispirandosi all'omonima serie a fumetti – dal regista, sceneggiatore, produttore cinematografico Frank Darabont e trasmesso, a partire dal 31 ottobre 2010, dal canale statunitense AMC.
In "The Walking Dead" l'intero pianeta – a seguito di una terribile catastrofe – è infestato da affamati e contagiosissimi zombie. I pochi sopravvissuti rimasti umani – capitanati dall'impavido agente di polizia Rick Grimes – cercano disperatamente una via di scampo nella speranza di riuscire a sopravvivere con qualsiasi mezzo all'orrore e alla mostruosità dei morti viventi, ma non solo (sicuri che i vivi non siano peggiori dei non-morti?)…
Immaginate (con un'estetica ed un trattamento da premio) un film catastrofico, poi uno horror, thriller, splatter, psicologico, mistery, fantascientifico, poliziesco, drammatico. Ora, mettete tutti questi generi insieme e otterrete "The Walking Dead" o, in altre parole, una di quelle serie tv di cui diventare, senza via di scampo, irrimediabilmente "addict".
Non a caso, l'episodio pilota di "The Walking Dead" ottenne a suo tempo ascolti record mentre in parallelo le critiche positive, anche di chi davanti alla parola "zombie" si ammala di orticaria, si sprecavano. Impossibile insomma, resistere al mix di sensazioni, emozioni e pensieri che "The Walking Dead" letteralmente scatena.
In due parole, una bomba.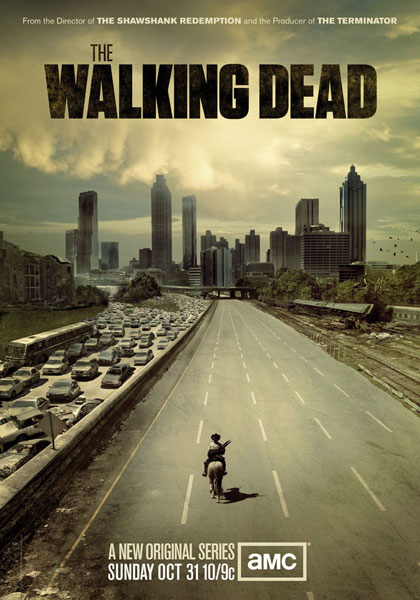 9/10
Titolo: The Walking Dead.
Nazione: USA.
Genere: Horror, drammatico, azione.
Durata: 60 min.
Stagioni: 7+.
Episodi: 6/13/16/16/16/16/?
Ideatore: Frank Darabont, Robert Kirkman.
Interpreti: Andrew Lincoln, Sarah Wayne Callies, Jon Bernthal, Laurie Holden, Chandler Riggs.
Uscita: 2010/in corso.
Sito Ufficiale: The Walking Dead.